The specialist in Bioluminescence, in support of (bio)drug discovery and development activities, has just published a recent article in the Journal of Immunotherapy, in April 2023. It details the scope of the platform recently developed by its R&D teams based in Madison, Wisconsin. Its title is : A Novel Cell-based Luciferase Reporter Platform for the Development and Characterization of T-Cell Redirecting Therapies and Vaccine Development.
Adoptive T cell immunotherapy is an important cancer treatment strategy in which genetically modified T cells are made tumor-specific and activated via introduction of a transgenic antigen receptor, which improves their ability to recognize and destroy tumors. T cell receptor-engineered T cell (TCR-T) and chimeric antigen receptor T cell (CAR-T) therapy are two types of adoptive T cell immunotherapy.
Measurement of TCR activation using traditional methods relies on laborious protocols and highly variable end points. The TCRαβ-KO Bioassay overcomes the limitations of these existing methods and enables functional testing of transgenic TCRs for antigen ranking, specificity and safety testing for applications such as quality control, TCR-T and CAR-T therapies.
The T Cell Activation Bioassay (TCRαβ-KO) is a bioluminescent cell-based assay for measuring the potency of transgenic TCR constructs to activate T cells without the constraints of endogenous TCR expression. The assay consists of a genetically engineered Jurkat T cell line with endogenous TCR α and β chains knocked out using CRISPR/Cas9. These cells express a luciferase reporter driven by a TCR pathway-dependent promoter.
"The project began in 2017, explains Jamison Grailer, Head of the Bioassays Group at Promega R&D (R&D Group Leader at Promega). It was born when realizing that TCR therapies would become leading therapies and probably supplant CAR-T therapies. Unlike CAR-T, which can only target surface antigens, TCR therapy can target virtually any protein through the MHC system, including cancer-driving oncogenes. TCR therapy can really improve treatments not only for cancer but also for infectious diseases, such as HIV for example."
This T-cell activation bioassay is based on a bioluminescent reporter that enables sensitive, quantitative measurement of TCR-mediated therapy by reflecting TCR mechanism of action and specificity.
TCR KO cells in a CD4+ and CD8+ context enable the introduction of transgenic TCRs for MHC II- and MHC I-mediated TCR activation.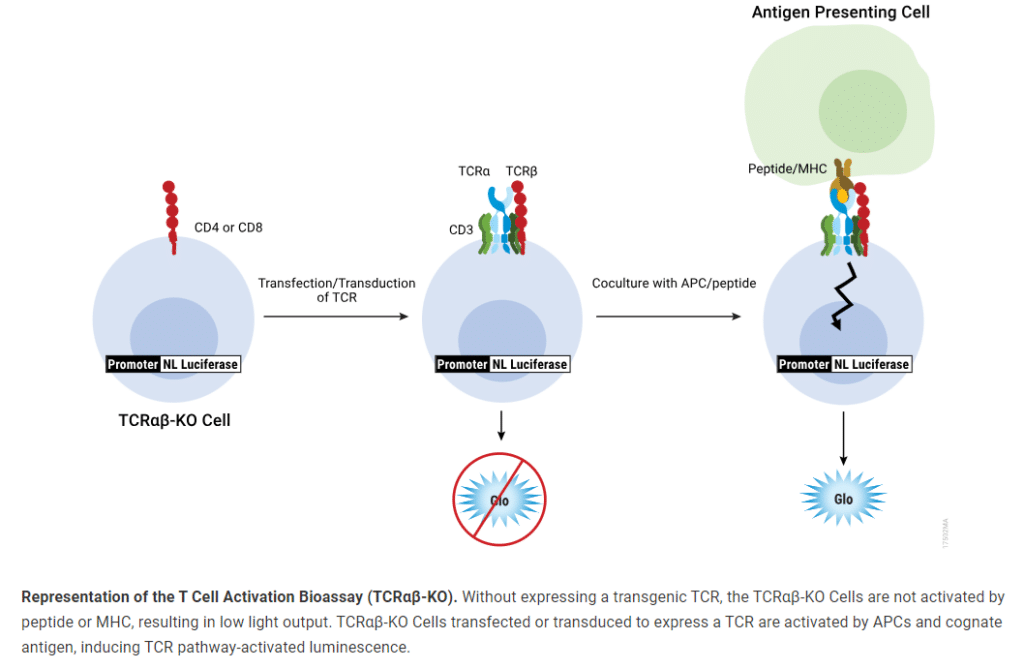 "New biologic drug formats, including bispecific antibodies and cell therapies, require robust and reproducible measurement of T-cell activation. We finally have ICH-prequalified bioassays that provide simple, scalable solutions for bio-drug screening and development, comments Jennifer Serriere-Di Bartolo, Pharma Biotech's Strategic Marketing and Collaboration Manager for France. They're easy to use and robust, and always based on luminescence, so they're very sensitive."
According to Jamison Grailer, "the platform created by Promega enables easy and fast measurement of TCR function. This is a big improvement, because before, receptors were put into primary T cells, and then proliferation, cell killing, and/or cytokine secretion were measured. Now, on this platform, there's a gene reporter system, which measures receptor signals directly, eliminating the need for these complex endpoint measures."
"This new platform of technological tools will provide the pharmaceutical and biotech industries with a faster, more reliable test for assessing the efficacy of their future biomedicines and will enable them to rank several candidate TCRs according to their relative potency in relation to signal intensity. Ultimately, this will speed up the R&D phases, enabling them to enter clinical trials more quickly, and then go to market. Our customers will thus be able to save precious time in their development", Jennifer Serriere-Di Bartolo, France Pharma Biotech Strategic Collaboration & Marketing Manager.
Since its creation in 1978, Promega has sought to study and optimize enzymes with the aim of developing a range of innovative, high-performance technologies for numerous applications in both Molecular and Cellular Biology, highly appreciated in particular in Drug Discovery. Over 30 years ago, the company's founder and current CEO, researcher William A. Linton, launched the development of a promising new technology, bioluminescence, using an enzyme called Luciferase.
Today, after more than 45 years in business, PROMEGA has over 2,000 employees worldwide and more than 200 researchers. Their discoveries are behind over 600 active patents and 85% of the innovative technological solutions produced and marketed by PROMEGA. The 4,000 items in the current catalog contact all Life Science laboratories, and in particular pharmaceutical companies, from the exploratory to the clinical phases of development, including quality control of clinical batches. Their proprietary technologies are also widely used in fields such as human diagnostics, animal health and environmental analysis.
"Technological innovation is our priority, says Jennifer Serriere-Di Bartolo. 10% of our employees are R&D researchers who develop our technologies and tools of the future, and 10% of sales are reinjected into our R&D every year." Today, PROMEGA achieves sales of over $700 million through its 16 subsidiaries and distributors, with a presence in over 100 countries on 3 continents. With a strong presence in Europe, its French branch based near Lyon celebrated its 30th anniversary last year.